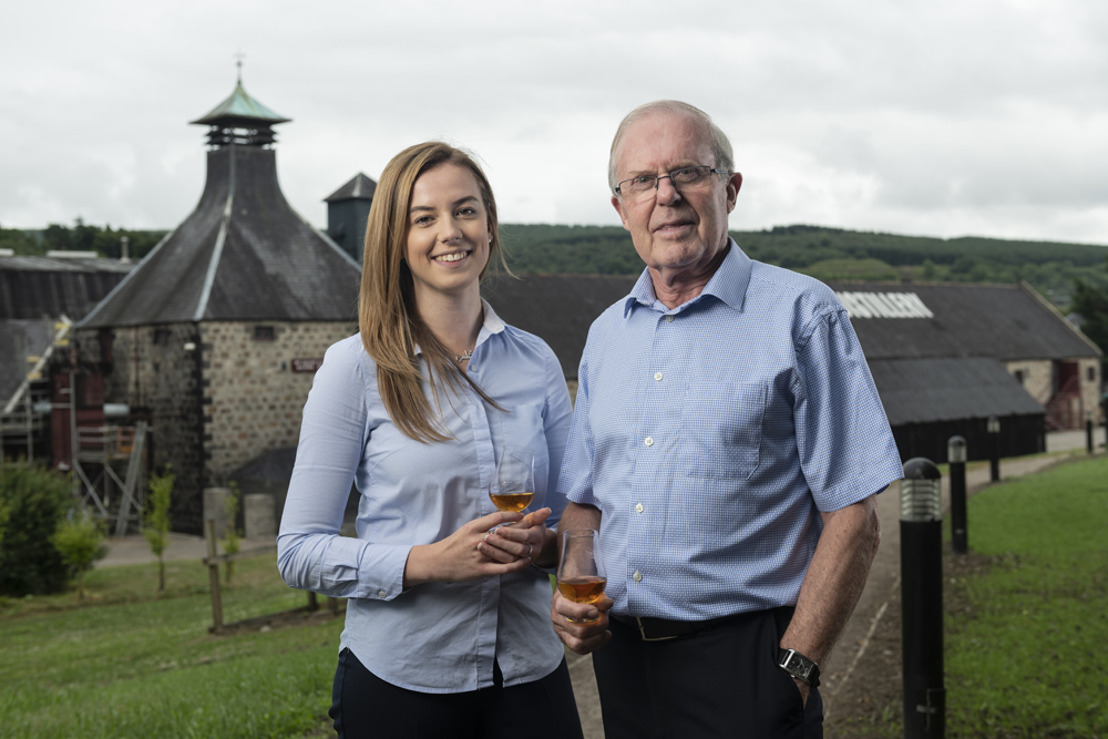 WORLD'S LONGEST SERVING SCOTCH MALT MASTER DAVID STEWART MBE ANNOUNCES 26 YEAR OLD FEMALE APPRENTICE FOR THE BALVENIE
Friday, August 31, 2018 —
Glasgow-native Kelsey McKechnie will officially learn her craft under the watchful eye of the whisky industry's longest serving malt master David Stewart MBE after having been a Technical Graduate and Whisky Technologist at William Grant & Sons since August 2014.
The Balvenie announces a significant milestone in the history of the distillery, the appointment of 26-year-old Kelsey McKechnie as the apprentice malt master under the careful stewardship of one of the most respected malt masters in the industry, David Stewart MBE.
"It's hard to underplay the significance of this announcement - the appointment to apprentice malt master represents a once in a lifetime opportunity for anyone working in the whisky industry," comments Stewart. "Kelsey has a precious talent; with a real flair for distillation, a dedication to her craft and a self-assurance and poise that completely belies her young age. She has also shown that she has an expert palate and skill for nosing and assessing whisky, which combined with her natural abilities and academic background make her the ideal candidate."
Kelsey McKechnie began her journey to becoming apprentice malt master by studying Biology and Biological Sciences at the University of the West of Scotland. Having completed her studies in 2014, McKechnie decided to pursue her interest in the technique and skill behind spirit distillation and applied her knowledge of clinical sciences to further study, with an MSc in Brewing and Distilling at Heriot-Watt University in Edinburgh (which she graduates from this year).
McKechnie began working at William Grant & Sons as a Technical Graduate and Whisky Technologist, with a focus on spirit quality and development. During this period, Kelsey started gaining experience learning the art and science behind crafting The Balvenie, as she shadowed David in the development and creation of recent bottlings such as The Balvenie Peat Week Aged 14 Years (2002 and 2003 Vintage), The Balvenie DoubleWood Aged 25 Years and The Balvenie Fifty: Marriage 0962.
"I'll always remember the first sip of The Balvenie whisky I tasted," comments McKechnie. "It was up at the distillery and just the smell alone took me straight back to spending time with my family, in particular with my Grandfather. Every bottle makes me think of something different and although I'm a scientist by trade, I really enjoy the emotional response that whisky can bring."
In her role as apprentice malt master, Kelsey McKechnie 's main responsibilities will include ensuring excellence and consistency in each bottle of The Balvenie, while also maintaining that spirit housed at the distillery in Dufftown, Scotland is maturing in the desired direction. She will also play an active role in assisting David Stewart with the distillery's important work in whisky innovation: sampling, assessing and launching expressions of the future.
"It goes without saying that it's both an incredible honour and a privilege to be announced as The Balvenie's new apprentice malt master," adds McKechnie. "Over the past four years, the team at William Grant & Sons have provided me with a wealth of support, guidance and knowledge on all things spirits, and I look forward to continuing my journey and development under David's tutelage."
David Stewart MBE, who has spent over 56 years in the industry (he also mentored Glenfiddich Malt Master Brian Kinsman for eight years) will continue his tenure as The Balvenie Malt Master while mentoring Kelsey.
"I very much look forward to mentoring Kelsey as she continues her journey into a world of distilling and maturing whisky," he adds. "To achieve this at just 26 years old is testament to Kelsey's abilities."
Meg Sethi President/CEO & Agency Director, Alchemysts Inc.