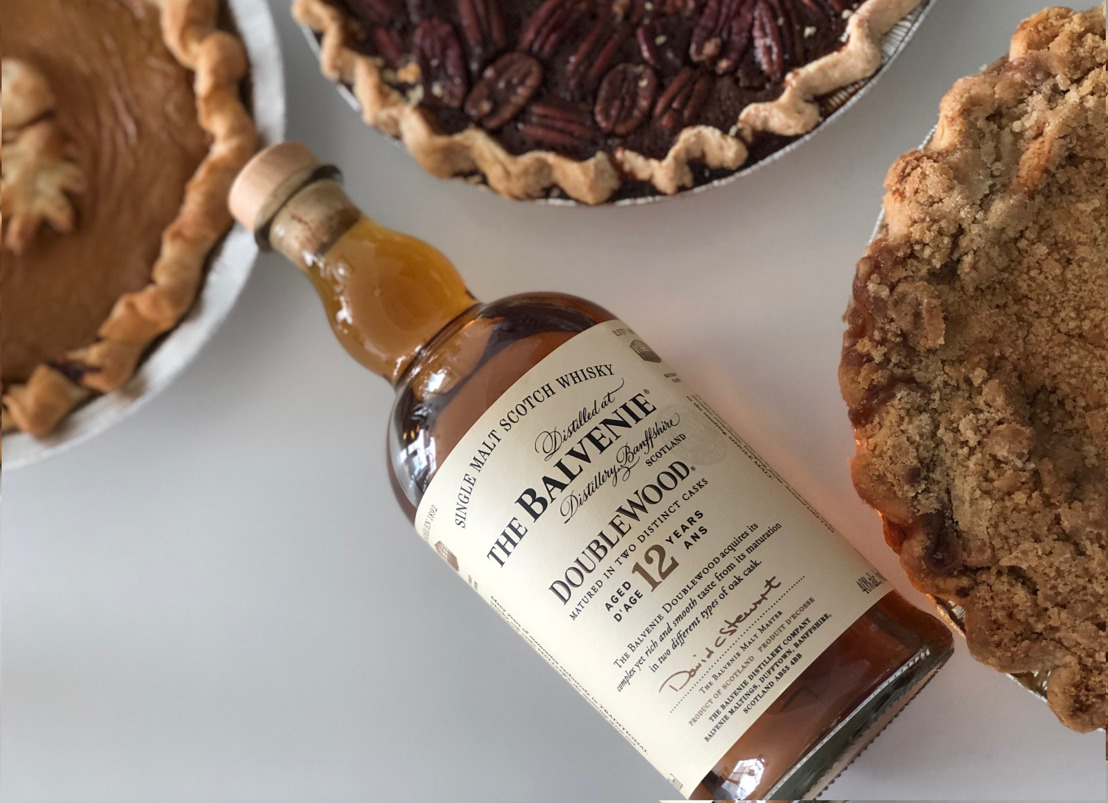 FALL INTO THANKSGIVING WITH A WHISKY AND PIE PAIRING THIS OCTOBER
Whisky Expert Jamie Johnson pairs your favourite Thanksgiving pies with a dram of whisky to maximize flavour
Wednesday, September 26, 2018 —

As the fall weather starts to roll in and the final long weekend of the summer has passed, it's time to look forward to the next holiday in the calendar, Thanksgiving.

The October long weekend will see feasts gracing tables across Canada with families and friends celebrating good food, good friends and good conversation. What better way to honour this than to lift a dram or two of whisky to warm the cold evenings and elevate the taste of tradiaional Thanksgiving pie flavours.

Whisky expert Jamie Johnson has paired our favourite sweet and savoury pies with drams of whisky, designed to work with the popular flavours we associate with Thanksgiving and wow your guests with your in-depth knowledge of the matching notes.

Pumpkin Pie | The Balvenie Caribbean Cask 14 Year Old
The pumpkin pie and The Balvenie Caribbean Cask 14 Year Old have complimentary flavours due to the ginger notes in both the pie and the whisky.
Pumpkin pie isn't overly sweet but is rich in baking spices such as cinnamon, ginger and nutmeg. The Balvenie Caribbean Cask 14 Year Old gives light sweetness which brings out a similar sweetness in the pie.
Ginger in the pie works well with the pineapple notes found in the Caribbean Rum cask finish, which also adds a peppery spiciness that compliments the abundance of baking spices found in the pie.
Apple Pie | The Balvenie DoubleWood 12 Year Old
This is a classic pie with classic whisky, pairing the fruit pie and DoubleWood 12 perfectly.
The rich stewed fruit notes from the DoubleWood 12 whisky, the apples in pie and the cinnamon in both play nicely together.
The sherry cask finish brings the baking spices (nutmeg, cinnamon) and the rich stone fruit flavours (plum, cherry, date) of the DoubleWood 12 to the forefront. These pair with the sweetness of the apples.
Pecan Pie | The Balvenie PortWood 21 Year Old
PortWood is an understated whisky - elegant with hints of raisin, which pairs well with the pecan.
The elegance of the PortWood is not overshadowed by the sweetness of the pecan pie, which does not add any unnecessary sweetness.
Deep baking spices found in the pie that are elevated with the hint of cocoa found on the back end of the PortWood 21 and the marzipan notes will work excellently with a flaky pie crust.
There is a reason dried fruits, which are an ample flavour in the PortWood, match so well with nuts in so many other capacities and there is no exception here.
Chocolate Pie | The Balvenie DoubleWood 17 Year Old
The richness of both the chocolate and whisky play well with their bitterness and spiciness, making them a heavenly match.
The sweetness of the pie is balanced by the richness and savory baking spice flavours found in The Balvenie DoubleWood 17 Year Old.
Turkey Pie | The Balvenie Tun 1509
Higher ABV whisky cuts through the richness of the gravy so the whisky is able to make a statement.
The pie is rich and savory, which contrasts the sweet and oaky notes of the whisky yet they pair well. The oak and the slightest trace of char from the whisky highlight the savory flavours from the turkey.
Shepherd's Pie | The Balvenie Single Barrel 12 Year Old
Where some whiskies could get lost, The Balvenie Single Barrel 12 Year Old stands up well to multitudes of flavours, with the higher ABV cutting through the rich, savory notes of the Shepherds pie.
The sweetness of the whisky is intensified with the complete contrast with the pie. The vanilla notes in the whisky are especially noticeable after a bite.
The oak and honey in the whisky plays with the savory umami of the meat, lending balance.
Meg Sethi President/CEO & Agency Director, Alchemysts Inc.