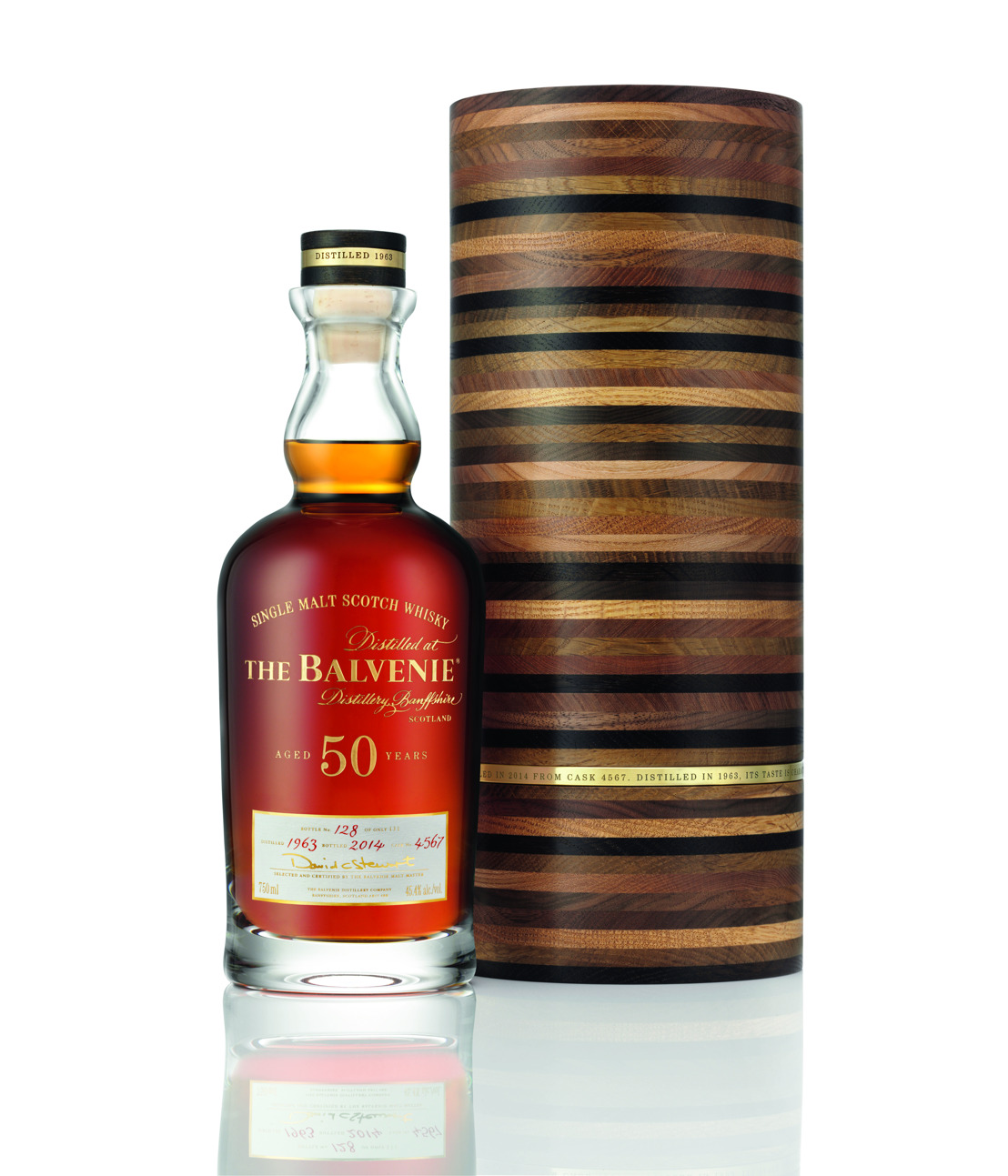 EXCEPTIONALLY CRAFTED, THE BALVENIE FIFTY: MARRIAGE 0962 ANNOUNCES ITS ARRIVAL TO CANADA IN TIME FOR THE HOLIDAY SEASON
A rare whisky half a century in the making, The Balvenie Fifty: Marriage 0962 is a limited offering with only 110 bottles across the globe.
Tuesday, November 6, 2018 —

One of the world's rare whiskies, The Balvenie Fifty: Marriage 0962 is set to make its Canadian debut at JAK'S Beer Wine Spirits in British Columbia on Thursday, December 6, 2018.

An expression of exceptional quality that typifies the skill and knowledge needed to marry significantly aged single malt Scotch whisky, The Balvenie Fifty: Marriage 0962 is comprised of highly rare liquid sourced from four American Oak casks aged 50 years or over. Beautifully designed in a sleek, glass decanter representing the classic Balvenie bottle shape (which itself mirrors the silhouette of the copper stills at the distillery), the decanters for The Balvenie Fifty: Marriage 0962 have been hand-blown from 100% lead-free crystal. The bottle is presented in a beautiful wooden tube comprised of 50 layers (48 of walnut and two of brass). The presentation also includes an etched brass certificate and bottle glorifier, inscribed with the tasting notes of each constituent cask and the taste, palette and finish of the final marriage.

"The Balvenie Fifty: Marriage 0962 demonstrates the incredible craftmanship and skill of The Balvenie Malt Master David C. Stewart MBE," comments Jamie Johnson, The Balvenie Brand Ambassador, Canada. We are thrilled to be working with JAK'S to bring this incredibly rare bottle to the Canadian market."

A fourth-generation family operated liquor retailer based in British Columbia, JAK'S has 14 stores in the province of British Columbia. Over the last several years, JAK'S in-house whisky ambassador Lynn Coulthard has developed JAK'S into a premier whisky destination in B.C., known for carrying rare and precious whisky for their guests. JAK'S South Granville is the exclusive retailer to carry this distinctive bottle of The Balvenie Fifty: Marriage 0962.

A marriage of whisky of this age is rare as liquid given 50 years or more to express itself can develop flavours that have extreme variances of taste, strength and depth that make the task complex. Stewart selected four casks into an exquisite whole that combines and enhances their many delicate notes. The final liquid, bottled at 41.6% ABV, combines malt and oak with brown sugar, toffee and ground ginger on the nose, followed by further oaky notes, maple syrup, tangy citrus and classic honeyed Balvenie sweetness to taste. The finish is long and lingering, with dried fruits and vanilla oaky spice notes.

"At JAK'S Beer Wine Spirits we are passionate about offering our guests a unique product selection along with exlusives they can't get anywhere else," adds Tim Dumas, Director of Sales and Marketing, JAK'S. "Which is why we are extremely excited to carry such a rare and special whisky".

The Balvenie Fifty: Marriage 0962 is scheduled to arrive at JAK'S South Granville location on Thursday, December 6, 2018 at 2658 Granville Street, Vancouver, B.C.

For additional information about The Balvenie Fifty: Marriage 0962 and images for use, please visit THE BALVENIE PRESS ROOM.

-30-
Meg Sethi President/CEO & Agency Director, Alchemysts Inc.