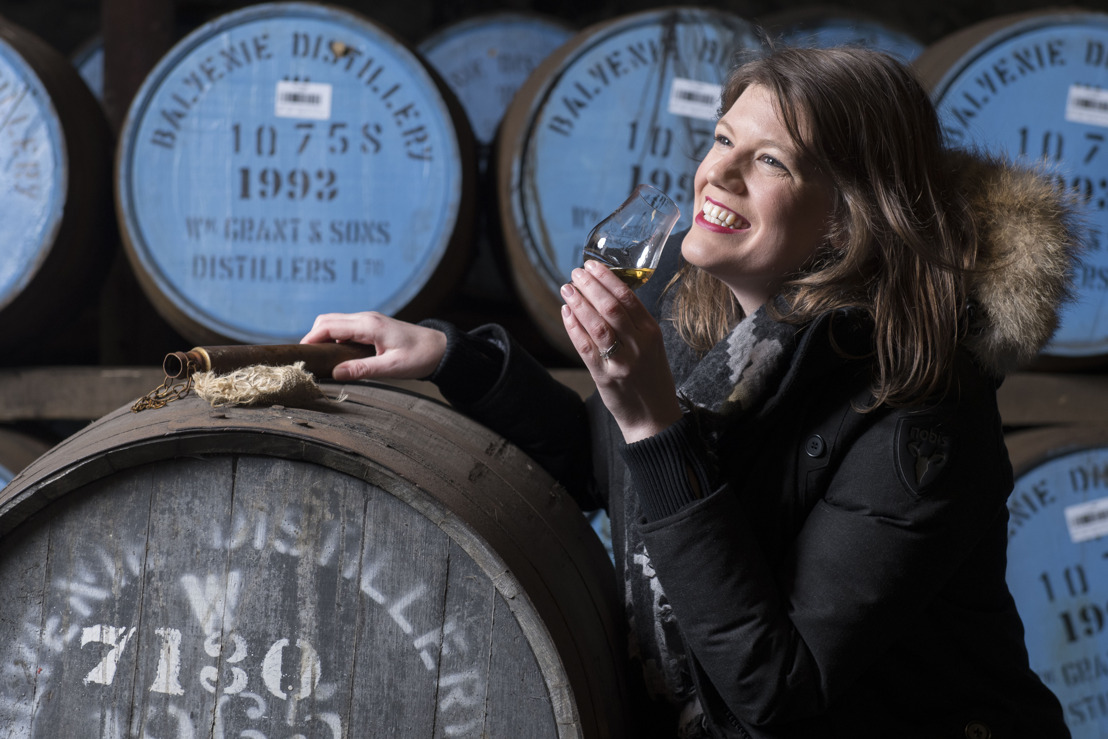 CANADIAN WHISKY EXPERT AWARDED PRESTIGIOUS DISTILLATION QUALIFICATION
Jamie Johnson, The Balvenie Brand Ambassador for Canada completes General Certificate in Distilling from globally recognized Institute of Brewing and Distilling.
Tuesday, August 21, 2018 —

Jamie Johnson, The Balvenie Brand Ambassador for Canada has joined an elite group of whisky experts following her completion of the prestigious General Certificate in Distilling.

Awarded by the Institute of Brewing and Distilling (IBD), the General Certificate in Distilling promotes excellence in education, training and professional standards in the science and technology of distilling on a global scale. Candidates must complete a comprehensive 2-hour exam consisting of 60 multiple choice questions. A minimum score of 66% correct is required to pass the exam and earn the qualification. Candidates who score 80-89% receive a credit pass. Jamie earned the "credit pass" with a score over 80%.
"This is a significant accomplishment that comes from months of preparation," comments Nicole Ruso, Brand Manager, The Balvenie and Tullamore D.E.W. "Jamie's newly earned global designation further demonstrates her deep knowledge and commitment to the world of whisky. We look forward to sharing her expertise with whisky fans across Canada."
Founded in 1886 (as the Laboratory Club in London in 1886), the Institute of Brewing and Distilling (IBD) was created by a group of scientists who gathered to discuss issues relating to malting and brewing. In 2001, the Institute merged with the International Brewers' Guild, a long-standing organization representing professional brewers in the United Kingdom. IBD professional certifications are highly regarded across the globe and are not easily earned.
Jamie Johnson's career as a notable voice in the whisky community stemmed from a passion project that grew in popularity. The "Bourbon Thing" was created as an opportunity to taste and discuss drams with friends. As interest in whisky grew across Canada, so did Jamie's popularity, leading her to organically build relationships with national influencers and venues. In 2017, Jamie joined the team at The Balvenie as the Canadian Brand Ambassador and has since continued to educate the country about the importance of craftmanship in the whisky process.
"Whisky has been my passion for many years and I'm delighted to have had the opportunity to refine my knowledge and earn a prominent and respected global qualification," comments Jamie Johnson, The Balvenie Brand Ambassador for Canada. "I look forward to sharing this deeper distilling knowledge with the whisky community of Canada."
For more information about the IBD and their certifications, please visit www.ibd.org.uk.
For additional information about Jamie Johnson and The Balvenie, please visit www.thebalvenie.com.
-30-
Meg Sethi President/CEO & Agency Director, Alchemysts Inc.